Team Raidopower Motorsport G1GP Adventure
Over the past few days I have been in touch with Andreas Hedstrom the drift team manager with Raidopower Motorsport in Sweden. The guys are currently in Japan getting suited n booted for the November round of G1Gp. They are sending us updates of their adventure both leading up to and on the day of the event. There are a few Europeans out there competing so lets get behind these guys and show them some drift love!
Andreas gives us some background…
Tony Pettersson from Sweden in currently studying in Japan, Tony (of course) also loves drifting.
He has been in close contact with Andreas Hedstrom (Raidopower Motorsport´s  team manager) since many years back. Tony told Andreas that he would participate in the Matsuri week/G1GP Finals at Ebisu Circuit. Andreas then put tony in touch with one of the team drivers, Mikael Svensson.
It probably took no more than 5 hours after their first contact before Mikael called to Andreas and said "I´m going to Japan for the Matsuri/G1GP Finals!". Sure thing!
Mikael and Tony contacted Andy at Powervehicles.com about buying a car to complete with during this weekend, and Andy suggested the black Siliva S13 – deal!
Tony made a lot of effort to arrange living place, transportation etc for the whole team – now it finally was time to go to Japan!
Full specification of the car below:
Car is built by famous Garage Ash in Japan
SPECIFICATION:
1991 Nissan Silvia S13
KMS:
108426
EQUIPMENT:
Gp Sports G-master Coilovers
Front Pilo Tension Rods
Aftermarket Tie Rods
Pilo Tension Rod Ends
ATS LSD
Custom Dual Exhaust System
Aftermarket Front Pipe (No Cat)
Nismo Power Brace (Front Tension Rod Brackets)
Inner Fender Braces
SSR 15″ Wire Mesh Alloys ( 7.5J – 5)
2 Spare Black Painted 15″ Mesh Alloys in car
Adjustable Rear Upper Arms
Adjustable Rear Toe Control Rods
Adjustable Rear Traction Rods
LED Lights under Doors
LED incar strip Lights
Belloff HIDs
Strobes in Front Winkers and Headlights
Gzone Remapped ROM
Aero Side Skirts
Rear Canards
Front Lip Spoiler
Clear Front Winkers
Kevlar Adjustable Rear Spoiler
Crystal Rear Lenses
Front Mounted Intercooler
Engine Torque Damper
Blitz Air Cleaner
Front Mounted Intercooler
Aftermarket Floor Mats
Bride Recliner
Team Orange Steering Wheel
Team Orange Works Bell Snap Off Boss
Aftermarket Shift Knob
Tinted Windows
Kouki Door Trims
Blitz Boost Gauge
Greddy Boost Controller
Pioneer Audio
Cusco Rear Strut Brace
Quick video of the car from Andy and the crew at Powervehicles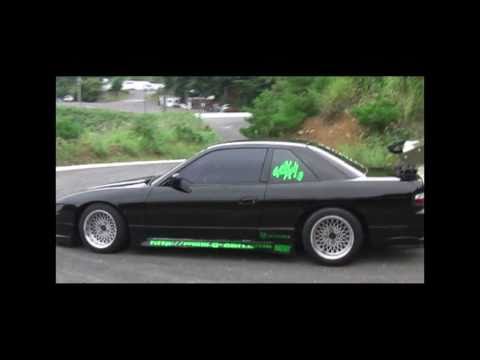 People from Raidopower Motorsport going to Japan:
Mikael Svensson, Driver
Joakhim Lindqvist, Mechanic
Göran Röjhagen, Photographer (Deltaphoto.se)
And of course the driver Tony Pettersson that has teamed up with Raidopower Motorsport for the G1GP/Matsuri  week.